Staying Ahead in High-Growth Development Hotspots
July 25, 2023
There has been a lot of population growth across the U.S. In 2023, the fastest-growing states in the U.S. are Florida, Idaho, South Carolina, Texas, and South Dakota.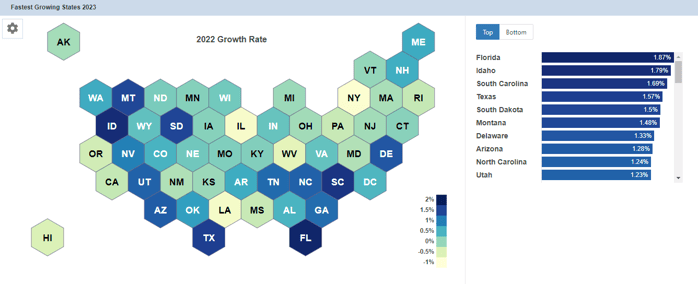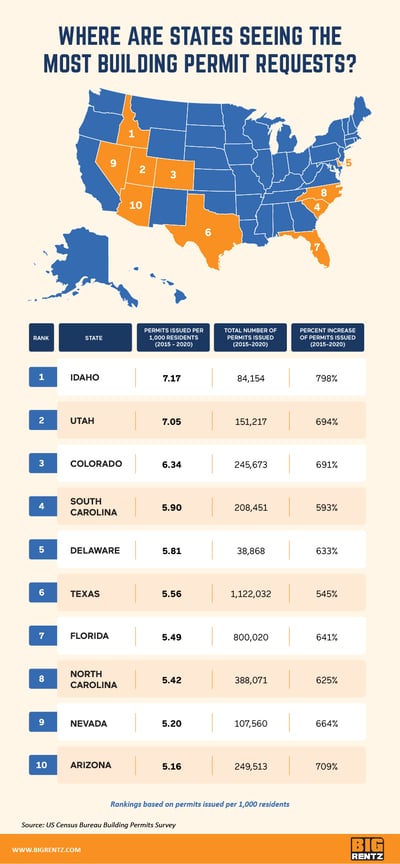 The fastest-growing states have a significant overlap with the states that had the most requested building permits from 2015-2020 – 8 of the fastest–growing states also had the most building permit requests (Florida, Idaho, South Carolina, Texas, Delaware, Arizona, North Carolina, and Utah).
Texas is a prime example of rapid advancement with more residents and building permits.
The saying, "Everything is bigger in Texas", has taken on a new meaning – the state has experienced a growth of 20.68% since 2010 and a 545% increase of permits issued between 2015-2020.
Though more growth can mean a stronger economy, it can also mean a new set of hurdles.
Two major challenges come with rising populations: finding sufficient affordable housing and providing necessary services. Austin, Texas, is a prime example of a fast-growing city that has run into problems because of its growth spurt.
Officials representing Austin, Dallas County, and the Metropolitan Atlanta region defined providing affordable housing and creating transportation options for commuters as a major obstacle. Another, and often-overlooked, growing pain is more work for local governments. As more residents move into these high-growth hotspots, there are undoubtedly more building and land use permits to approve, planning applications to review, business licenses to issue, and complaints to address. This can mean an even slower development approval process for Americans.
Local government officials can better respond to more development with stronger community development processes.
One way, and arguably the most effective way, to streamline the development approval process for faster construction is moving community development online. Switching from paper-based processes to cloud-based processes can speed up building permit issuance by 80%. This is especially important when there is a high influx of building permits – the faster building departments can issue permits, the faster construction can begin to house more residents, businesses, and provide more services to citizens.
Traditionally, front counter administrative work takes up a lot of valuable time from staff. Applicants come in to ask questions, submit incomplete paper applications, and make payments.
Online permitting and licensing software brings everything online so all stakeholders can work remotely. It also forces applicants to fill in all mandatory fields, so all applications are submitted complete which saves significant time tracking down missing information from residents and builders.
To learn more about staying ahead in high-growth development hotspots, learn about one of North America's leading community development software providers, Cloudpermit, and book a demo with us.