Software Updates: Edit Payment Dates for OTC Payments, Set and Change Inspection Availability, and More
December 8, 2022
It's important to us to continue improving our software to make your jobs easier. In November, we made some modifications to make Cloudpermit better. Learn more about the recent changes in our latest releases notes here.
Edit Payment Dates for OTC Payments
We've made it possible to edit payment dates for over-the-counter (OTC) payments. When permit fees are paid via e-transfer or by using other forms of OTC payments, actual payment dates can now be different than when the bill is set as paid in Cloudpermit. Now, there is a new field for Date of payment so users can determine when the bill was paid. This date can also be included in a report which will help with reporting and reconciliation of payments.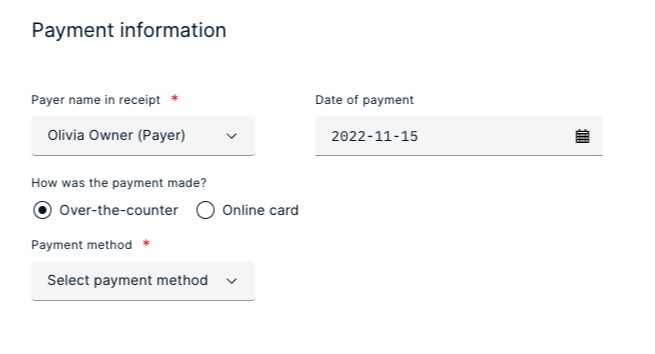 Modify the Number of Available Time Slots for Inspections
It is now easier to edit time slots that your inspectors are available to perform inspections. Municipal administrative users used to be able to adjust times for two different time slots for inspections but did not have the option adjust the number of slots. Now, it is easy to remove one of the time slots and keep only one or add another if you only have one.
This can be modified in the inspection section by municipal admin users. When a time slot is removed, all previously scheduled inspections will automatically be moved to the other time slot.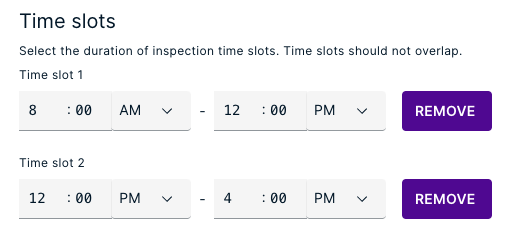 Convenience Fees for Square and Stripe
We've added more features to handle online payments with your third-party integrations better. Now, municipal admin users can configure convenience and service fees for Square and Stripe online payments to have the payer pay for the credit card costs. Convenience fees can be set as a percentage (%) or fixed amount ($). Both can also be used, for example: 2.0% + $1.50.