Software Updates: Dashboard Map, Workspace Links, Unassigned Workspace Filtering, and More
November 9, 2022
We continue to take great pride in constantly making our software work better for you. This October, we added some great new features and made some improvements to our software. Check out some of the changes we made in this blog and visit our release notes to learn about the rest.
See Your Workspaces on the Dashboard Map
We've made it easier to browse your workspaces in the dashboard. Now, you can filter workspaces and see the results on a map, in addition to seeing them as part of a list. You can switch between these two modes so it's easy to find the view you need. When you open your Dashboard, it'll automatically be set to whichever view you used last. This nice new feature works with all Cloudpermit solutions, so you can see permits, approvals and enforcement cases in the same map all at once.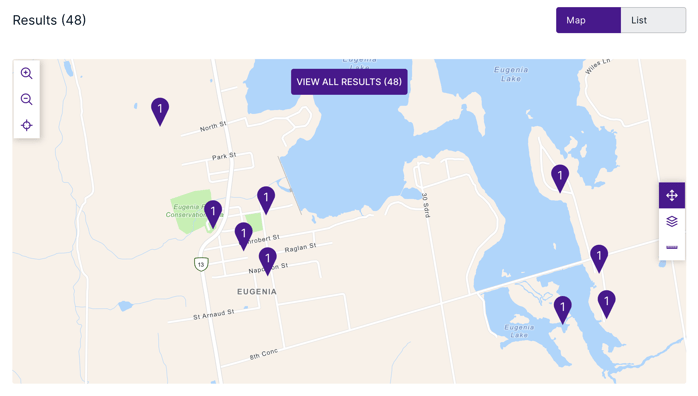 Link Related Workspaces
Multiple workspaces can be linked together so it is easier to find, see the status and move between them. For example, users can now link "building without permit" enforcement cases with the related building permit workspace. You can link workspaces between different Cloudpermit solutions, but the linked workspaces must be located on the same property.
To create links, click on the 'More actions' menu and select 'Link to an existing workspace'.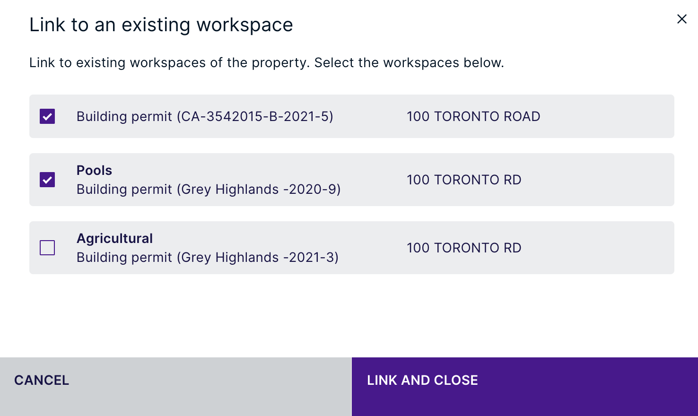 Easily Find Unassigned Work in the Dashboard
We've updated our software to make it easy for users to find unassigned workspaces and reviews. To do so, select 'Unassigned' from the respective dropdown menu in the Dashboard filters. This will help the staff and management to find the workspaces that still need to be assigned to someone so that the applications will not be unnoticed.

Improvements to Code Enforcement
We have made several improvements to our Code enforcement solution so that it fulfills the requirements and needs of our Canadian customers. In Canada, we will call the solution By-Law Enforcement, but our users on both sides of the border will benefit from the same functionalities and user experience.
Complaints or cases not located on a property
Sometimes, code enforcement complaints and cases are not located directly on a property. We have made the following improvements to make this easier:
Complainants can write a location description in a free-form optional text field
Municipal users can select 'in the proximity of a property' for a case so that it shows on the UI and in the reports that the violation is not on the property, but in the address
Municipal users can also mark the case as 'non-owner violation' also for the cases when the violation has happened on a property, but it was not caused by the property owner (e.g. visitor, animal)
This information can be seen on the complaint and under the case description, as shown below.
Configurable complaint sources
Municipal admin users can add or delete complaint sources in a complaint. System defaults cannot be deleted. If necessary, system defaults can be disabled.
Easily respond to complaints
Municipal users can now easily respond to complaints if requested. Click 'Send Reply' to open the users' email to reply to a complaint via email.

Manage visibility of case
Sometimes enforcement cases contain sensitive personal information that is not allowed to be shared to staff in other departments. Municipal admin users can restrict the visibility of cases for certain types of cases and the officers can restrict the visibility on a case-by-case basis.