What Makes a Great Year
December 21, 2022
As 2022 comes to an end, it's important to reflect on accomplishments and define what goals lie ahead. After all, a great year means something different to everyone.
To Cloudpermit, a great year means progress. We added new software solutions, increased our reach and impact across Canada, and refocused on our relationships.
New Software Solutions
As our name implies, we do cloud-based permits – building permits specifically. And now we do so much more (and have made significant improvements to our Building Permitting Software Solution, too).
We added two new software solutions this year so local governments can serve their communities better. Governments now benefit from online planning & development, as well as online by-law enforcement.
All users, including residents and homeowners, have 24/7 access to their information. They can work from their phones, tablets, and computers without any installations. Government staff, builders, and residents access the same software for a true end-to-end experience.
Our three solutions (building permitting, planning & development, and by-law enforcement) work together to make community development easier and faster.
Online Planning & Development Software
We received feedback from our customers that there was a need for a simple, online solution for planning & development. So, we created that solution earlier this year.
Cloudpermit's solution for planning & development allows planning departments to be more efficient and productive with their time. Staff can:
Accept, review, and approve planning applications
Manage meeting dates and agendas
Organize public notice notifications
Circulate planning applications internally and externally
Use maps integrated with their GIS (geographic information system)
Set regulatory processing timelines
Accept over-the-counter and online payments
Keep communication in one place




Users can create new planning applications online with a few simple clicks on Cloudpermit.
We have seen great success with our Planning & Development Software Solution as it makes a positive difference for local governments. It also contributes to a faster development approval process as online work significantly improves how construction is planned, and in turn, built.
A faster development approval process helps combat the national housing crisis. When communities bring their building permitting, planning, and by-law enforcement online, everyone wins.
We have also recently added the ability to accept, review, and issue land use permits. Now, building and planning departments can work together to accept conditional use permits, special use permits, and zoning permits. Online land use permits help these departments seamlessly work together and speed up community development. They can communicate online and access the information they need when they need it.
Online By-Law Enforcement Software
We make improvements to our software every three weeks as we are committed to continuous improvement. Part of that dedication to progress is reflected in creating our new by-law enforcement solution.
Recently, we held a webinar to showcase how by-law enforcement departments benefit by moving processes online.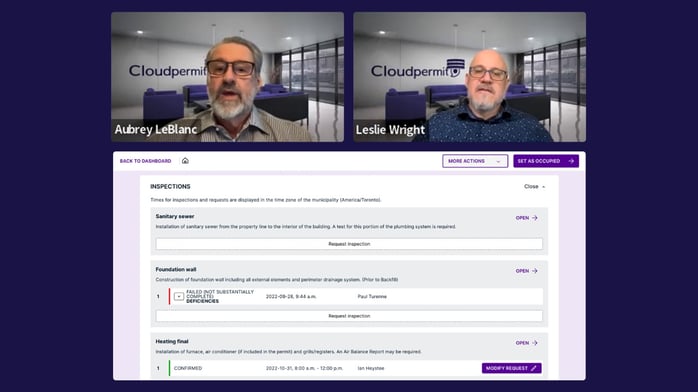 Cloudpermit's Country Director, Canada, Aubrey LeBlanc, and Product Trainer, Leslie Wright, shared their expertise about our by-law enforcement solution as this webinar's hosts.
Close to 150 attendees asked questions, walked through a software demo, and learned about key software features. Our By-Law Enforcement Solution benefits by-law enforcement officers since they can:
Accept complaints from citizens
Determine required contact information for complainants
Create cases in the field
View case history in chronological order
Share photos
Use maps integrated with your GIS (geographic information system)
Accept over-the-counter and online payments
Keep all communication in one place
Our By-Law Enforcement Software Solution integrates with our Building Permitting Software Solution. By-law enforcement officers can view past building permits on a property. This helps officers have a full picture of a complaint or case. They can also view case history in chronological order to accurately determine results.
Increased Reach and Impact Across Canada
Cloudpermit is becoming one of Canada's leading community development software. We continue to positively impact communities and are quickly expanding into more areas of the country.
AMO Pilot Project
Our recent pilot project with AMO (Association of Municipalities of Ontario) has made online building permitting more available to Ontario local governments. We worked with AMO and MPAC (Municipal Property Assessment Corporation) to provide governments across the province with an efficient and streamlined way to accept, review, and issue building permits.
We are excited to also offer online planning & development and by-law enforcement to Ontario local governments as well.
This wonderful partnership has resulted in more communities across the province benefiting from end-to-end and cloud-based building permitting this year and will continue to encourage online community development with our new solutions in the new year.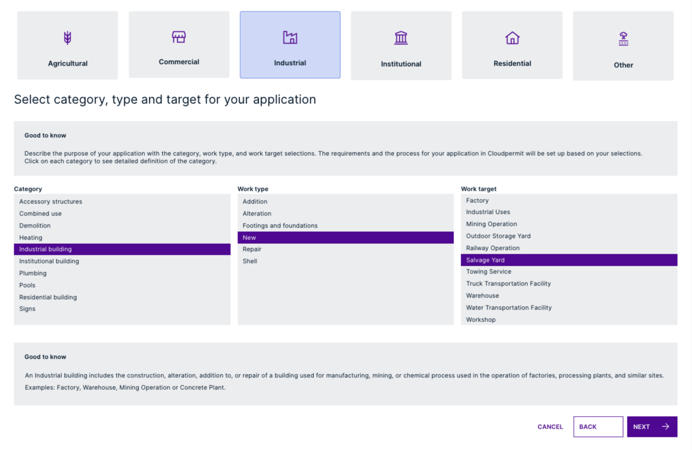 Select different types of applications easily online with Cloudpermit.
Ontario continues to grow
Almost half of Ontario's local governments have adopted Cloudpermit with no signs of slowing down. From big cities like Windsor to remote communities like Moosonee, our software is helping thousands of Ontarians have better access and insight into their projects.
Improved accessibility and transparency in the development approval process are a huge benefit. All users are on the same platform and can work together to achieve goals.
Residents do not need to call the office to learn the status of their permit or inspection as they automatically receive status updates. This helps bridge the gap between government staff and residents by bringing everyone onto the same page (by bringing everyone onto the same platform).
As our reach grows, so do the connections between governments. Shared services are on the rise. Since our software has an unlimited user license, it has been helpful in natural disaster response. Government officials have been able to easily lend a hand, like when the Town of Uxbridge experienced a tornado this May. Multiple users could have the same files open simultaneously to quickly respond to the tornado.
Builders and contractors also benefit from being able to seamlessly move between communities without needing to learn a new process. They can work remotely without needing to be physically present in a new area. This is especially helpful for cottage communities that have a high influx of seasonal residents during the summer months, like those in Muskoka. As more surrounding governments adopt the same software, it continues to benefit building, planning, and by-law enforcement professionals.
New provinces
We are now providing service to local governments in Ontario, British Columbia, Manitoba, Saskatchewan, Nova Scotia, and New Brunswick. It has been an exciting year full of new partnerships and we look forward to growing even more across Canada.
Natured Relationships
This year we refocused on nurturing our relationships and considered how we could help our customers even more.
Serving Canadians better
We hired two new Canadian team members to help take our reach and service to new heights – Aubrey LeBlanc, Canada's Country Director, and Leslie Wright, Product Trainer.
LeBlanc's previously served as the OBOA's Chief Administrative Officer for almost ten years. Now, his leadership and government expertise are helping shape how Cloudpermit serves Canadian communities and governments.
Wright's experience as a Digital Transformation Specialist with the City of Windsor helps give our staff more insight into the government experience. Now, our staff can better teach governments how to use our software and respond to pain points specific to building, planning, and by-law enforcement departments.
We look forward to Cloudpermit's continued success in Canada under LeBlanc's leadership and are excited to start next year with a renewed dedication to our growth.
Connecting with our customers
For many people, 2022 was the first year that started to feel closer to "normal" again. We were able to reconnect with many of our customers and friends at in-person conferences.
In Ontario, we attended the OBOA's Annual Meeting and Training Session in Hamilton, and AMO's (Association of Municipalities of Ontario) 2022 Annual Conference in Ottawa. It was great to spend time with our customers and nurture these relationships. We truly value our client relationships and take the time to listen to feedback from our community, so it was wonderful to do this in-person again.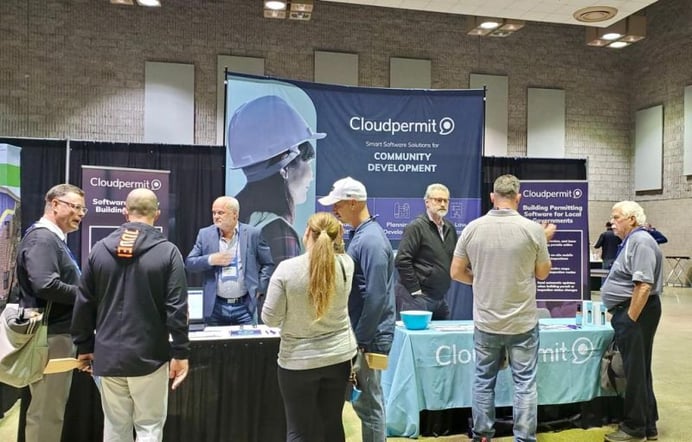 The Cloudpermit team at the OBOA's 2022 AMTS.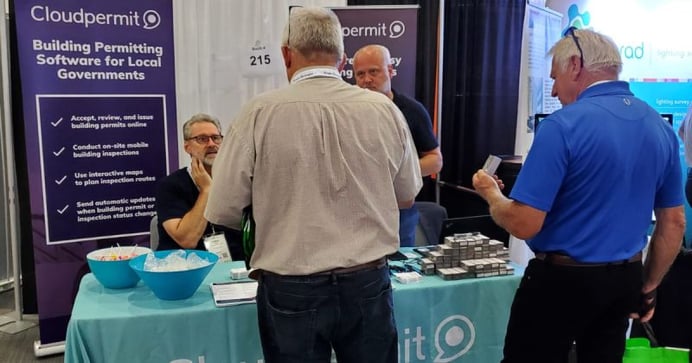 The Cloudpermit team at AMO's 2022 Annual Conference.
As a partner of the OBOA, we made sure to leave our mark on the conference by putting on a one-night only show. Cloudpermit's band, Donkey Bridge, performed a concert as part of the AMTS' entertainment for building professionals across the province. Sales managers, developers, and marketing specialists took to the stage to help Cloudpermit connect with Ontario's building community in a unique way.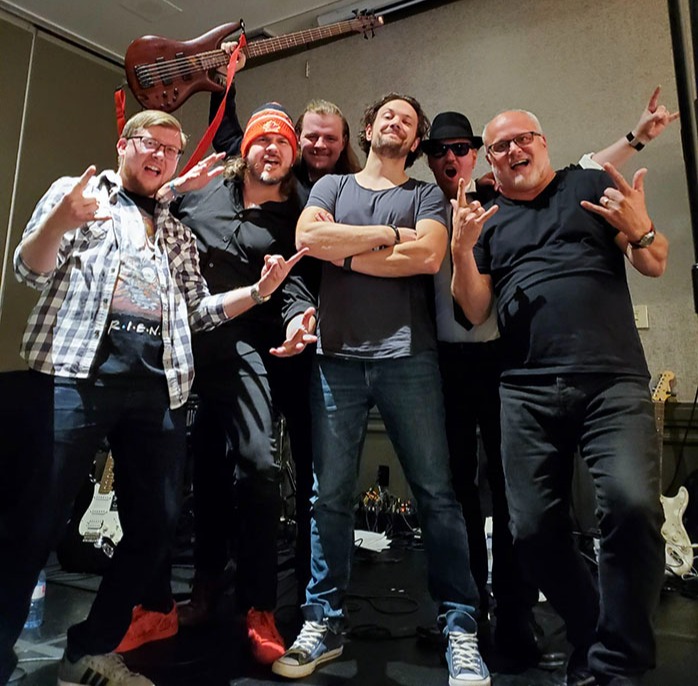 Cloudpermit's Donkey Bridge after their performance at OBOA's AMTS.
More Improvements Coming Next Year
Our commitment to developing the best-in-class community development software is stronger than ever with a software solution for business licensing coming out in the new year.
We look forward to attending multiple events again and connecting with local governments across Ontario and Canada.
As we continue to progress, we want to keep growing with you and learning from you. Cheers to 2023. Learn more at cloudpermit.com.

This article was originally published in the OBOA Journal Issue 136.