By-Law Enforcement
Streamline your community development and government services with by-law enforcement software. Cloudpermit is accessible 24/7 with online complaint submission, case creation in the field, and online payments.
Easy Access to Complaints
and Cases in the field
Enjoy remote work with 24/7 access to information
Keep information stored in the cloud instead of paper
Drive less by creating inspection routes
Cut down on office visits
Use your phone or tablet to take photos for case files
Review violations faster
Have faster review and approval processes
Work with other departments quickly
Accept complaints and determine what contact information is required before they hit 'submit'.
Read, filter, and organize complaints
View all complaints in one area
Document violations with standard wording templates
Receive photos from complainants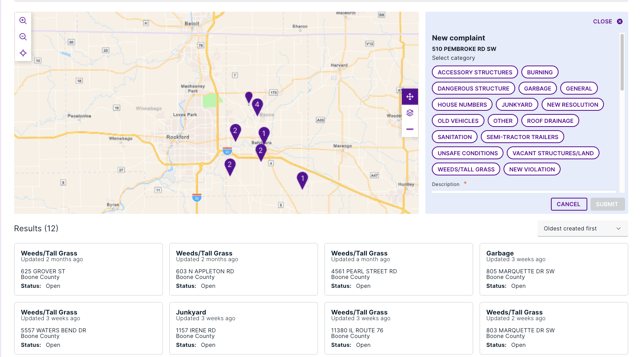 Create cases and document violations in the field.
Add multiple violations to one case
Track resolution of violations
Search past building permits, previous complaints, and by-law enforcement cases, and open the complete history of a property
Pull information on property owners, councils, courts, and other stakeholders
View case history in chronological order
Upload and store photos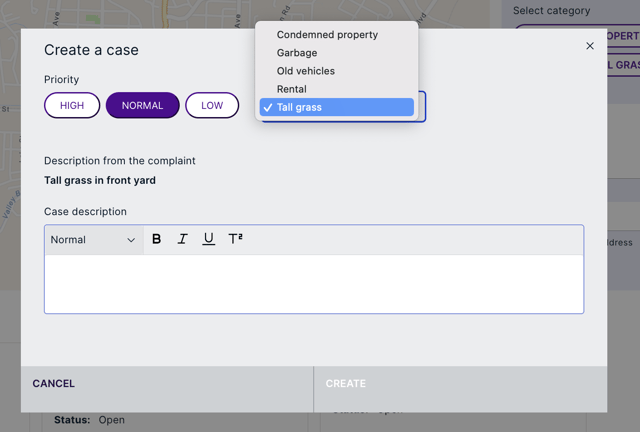 Conduct mobile inspections in the field on your phone, tablet, or laptop.
Input notes and complete reports
Upload photos
Keep track of all data, contact information, reports, etc.
Determine and schedule inspections
Monitor, update, and send inspection status updates
Assign inspections to inspectors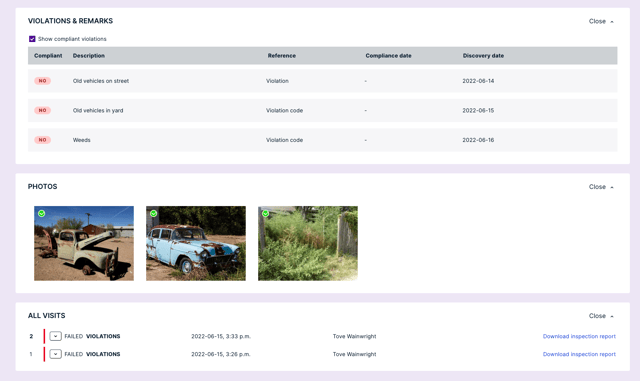 Take advantage of interactive maps that are integrated with your GIS.
View address, property borders, and other property details
Manage complaints and cases across one property
See full history of property such as contact information, past permits, and open history of a property
Access different layers such as aerial images, flooding maps, heritage areas, construction areas, etc.
Plan optimal routes based on requested times, locations, and already planned inspections

Create different types of reports for by-law enforcement cases, complaints, and inspections online.
Determine and filter report data
Download reports in Excel or CSV formats
Create pre-sets to save you periodical reports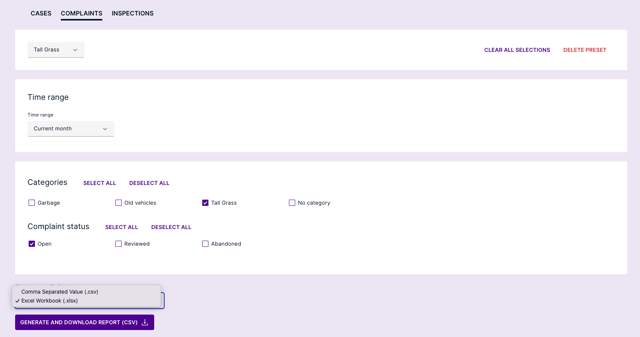 Our software can be configured to meet your specific needs without any coding.
Manage list of by-law enforcement types, inspection types, and descriptions
Manage daily time slots for inspection scheduling
Use templates to create inspection reports, letters, certificates, and other documents in PDF format
Manage the standard wording that will be used across the software

Enable secure online and over-the-counter payments.
Manage fines, fees, and citations
Integrate with third-party PCI Compliant payment gateways
Inform property owners when they have a due payment
Manage due or overdue payments

Online Portal in the Cloud
Log into Cloudpermit whenever and wherever suits you best.
Use any mobile device via the Internet

Benefit from storing information in the cloud

Automatically save and protect information in real-time

Send direct or group time-stamped messages