Software Updates: Upper-Tier Submissions, Marking Open Circulations as Incomplete, and More
September 8, 2022
We are always working on improving Cloudpermit with regular software updates. Check out some of our latest updates.
Copy Existing Workspaces for a New Application
This new feature can be a real time-saver for our heavy users. Sometimes developers need multiple similar permits for certain types of projects, like for subdivisions, or contractors may for example have similar pool projects starting around the city. Now, users can copy an existing workspace to use as a base for a new application. Users select what information is copied (contact information, attachments, etc.) to a new application and what is the location of the new application, and they can work from there with a prefilled workspace, without needing to insert the same information again.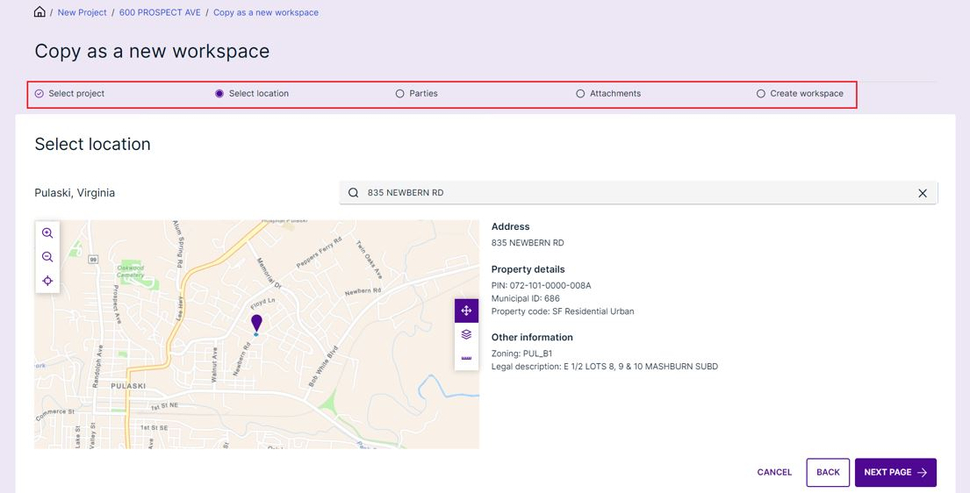 Upper-Tier Submissions and Approvals in Canada
Upper-tier local governments, like counties and regional planning districts, can now directly accept and process planning applications. Departments' Cloudpermit administrators can determine which types of planning applications they accept and process and which are directed to lower-tier municipalities. For example, upper-tier municipalities receive subdivision applications and lower-tier governments accept minor variance applications. This new feature is available for our customers in Canada, where the Planning Act in some Provinces supports decision-making in two-tier municipalities.
Cancel Circulation Requests
Circulation requests can now be cancelled after a request is made. This is helpful if a circulation request is sent out by accident. An email is automatically sent to the recipient with the cancelled request, so they know to ignore the initial request. Active tasks relating to the initial request are also automatically deleted from the stakeholder's Dashboard.
Mark In-Progress or Open Circulations as Incomplete
Circulations that have not been complete are automatically marked as 'incomplete' when the status of a workspace changes:
Building applications and supplemental applications from 'In review' to 'Ready to Issue'
Planning applications from 'In review', 'Draft approval review', or 'Refused', to 'in approval' or 'Finished'
Pre-consultations to 'complete'
This helps signal that a stakeholder has started to work on approval but has not finished. Any active tasks are also automatically removed from the Dashboard.