Software Updates: New Sorting Options, Tracking Circulation Request Due Dates, Download Subscriber Lists for Planning Approvals, and More
January 19, 2023
Happy new year to all. We are excited to start the year with some great new Cloudpermit features, some of which are below.
New Sorting Options in Your Dashboard
We've made it easier to sort workspaces in your dashboard with new sorting options. Authority users can now sort workspaces based on circulation due dates. So, you can sort based on "Closest/Furthest circulation due date first" to decide if you want to see the most urgent cases first or last.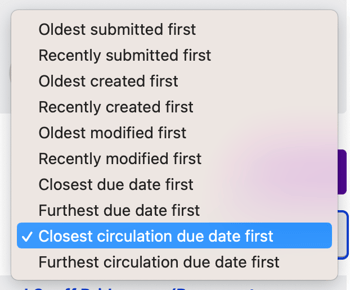 Tracking Circulation Due Dates in the Workspace
Cloudpermit has made it even simpler to track when circulation requests need to be submitted. Authority users now can view when a circulation request is close to its deadline in a notification banner at the top of their workspace.
A notification will first appear when the due date is within 21 days, then again between 7-14 days away, and for the last time when the due date is within the next week. The notification disappears once the circulation request has been completed.

Download a List of Subscribers for Planning Approval Decisions
Cloudpermit already has a feature that allows users to subscribe to receive public notice when a planning approval decision has been reached (see this article).
Municipality users can also manage contacts (subscribers) and notify them when a published decision has been made. They can do this by:
See this article to learn how to enable public notice for individual workspaces.
Now, we have made giving public notice even simpler. Municipality users can download a list of subscribers to an Excel spreadsheet. To do this, click "Download subscriber list".