Software Updates: New Integrations, Internal Notes in the Workspace, New Roles, and Advanced Permit Customization
October 11, 2022
Internal Notes in the Workspace
While Cloudpermit's workspace contained all official information related to an application or permit, it did not provide the possibility for the municipal staff to add any personal notes. Instead, all necessary reminders had to be added in post-it notes or external files outside of Cloudpermit.
Municipality users in building and planning departments can now add notes in the "Internal notes" section in the workspaces. They can be added and modified, and commonly used phrases can be quickly added. Notes are only visible to municipal staff, and they can be edited at any point until the project is archived.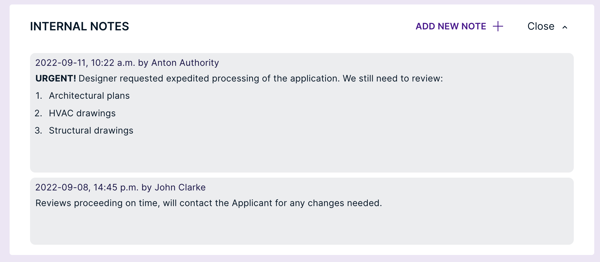 New Roles for the Applicant Side
Two new Party roles have been added: "Coordinating Registered Professional" and "Project Manager". These are automatically available for all users, and they can be added as available party roles by the department's admin user in Cloudpermit's configuration. Having the possibility to define configurable municipality-specific new roles is on its way and will be introduced in a future release.
Enable Multi-Factor Authentication with Duo MFA integration
If a municipal department requires additional security for its staff with multi-factor authentication, Cloudpermit has now a configurable integration to Duo MFA service. After successful login in Cloudpermit, the users will be redirected to Duo MFA for additional authentication using a mobile device.
If you are interested in using Duo Multi-Factor Authentication, please contact our sales department.
New Online Payment Integration: Merchante
A new online payment integration option has been added. Customers using Merchante Hosted Payments can now benefit from our easy configurability of online payment systems.
Advanced Permit Number Customization
Municipal users can now customize permit numbers with more information. Previously, users could set a prefix, separator character, and the next sequential number, and now they can customize:
Prefix
Separator character
Year in 2 digits
Year in 4 digits
Sequential number with leading zeros
Option to roll over or reset the sequential number on the year change
Order each of these elements in your custom permit number